As one of the essential accessories needed for securing your tonneau cover, clamps can often be overlooked. A truck bed cover, or a tonneau cover, as it's commonly called, provides utility and aesthetic appeal to your vehicle. However, its functionality is significantly reduced without the appropriate clamps to hold it firmly in place.
In this article, we will cover tonneau cover clamps – what they are, why they're necessary, and how to ensure you have the right ones for your specific cover. We will also share some expert tips on installing these clamps correctly, making your tonneau cover usage a seamless experience.
Whether you're a seasoned truck owner or just starting to figure out tonneau covers and clamps, we will provide all the essential knowledge you need about tonneau cover clamps.
So, without further ado, let's dive in!
What Are Tonneau Covers?
Before we go any further, A tonneau cover is an accessory installed on the bed of a pickup truck, offering both protection and style. These covers are designed to shield your truck bed and the cargo within the truck bed from weather elements such as rain, snow, and harsh sunlight, while also protecting against potential theft.
Tonneau covers come in various types, including roll-up, folding, retractable, and hinged, each offering a unique set of benefits to cater to different needs. Not only do they enhance the safety and functionality of your truck, but they also improve the vehicle's aerodynamics, potentially boosting fuel efficiency. Elegant and practical, tonneau covers are a game-changer for any pickup truck owner.
Whether it's securing your load in the bed, improving your truck's gas mileage, or just enhancing its overall aesthetic appeal, a tonneau cover delivers on multiple fronts, making it an indispensable part of your pickup truck setup.
What Are Tonneau Cover Clamps?
Tonneau cover clamps are vital truck parts that ensure your tonneau cover remains securely attached to your vehicle truck's bed. Think of them as the anchors, keeping your cover firmly in place, irrespective of the driving conditions or the speed at which you travel.
These clamps are generally made from durable materials such as stainless steel or heavy-duty plastic to withstand the rigors of the outdoor environment and the stresses of highway speeds. They function by gripping the bed rail and the tonneau cover, thereby creating a robust link that prevents the cover from flapping about or flying off.
Clamps come in various shapes and sizes, designed to fit the numerous types of tonneau covers available in the market. You'll find clamps for roll-up covers, folding covers, retractable covers, and more, each tailored to the specific installation and operational requirements of the cover type. Some tonneau cover kits include clamps, but they can also be purchased separately if you need to replace old or damaged ones.
Remember, your tonneau cover's effectiveness lies in its ability to stay tight, and that's where tonneau cover clamps step in, making them an essential accessory item for every truck owner who uses a tonneau cover.
How Do You Install Tonneau Cover Clamps?
Installing tonneau cover clamps is a straightforward task that you can handle in a few simple steps:
Identify the Clamping Points: After laying your tonneau cover on the truck bed, identify where the clamps need to be attached. Typically, these points are around the perimeter of the cover, specifically on the bed rails.
Place the Clamps: Align each clamp so that its jaws are straddling the tonneau cover's edge and the truck bed rail. Make sure the tonneau cover clamps are evenly spaced to distribute the tension equally across the cover.
Tighten the Clamps: Using the provided screws or a wrench if necessary, secure the clamp. Do not overtighten; it should be firm enough to hold the cover securely but not so tight as to damage the cover or rail.
Test the Security: Gently tug on the cover to ensure that it's securely fastened. If there is any movement, you may need to adjust the tension on your clamps from end to end.
Best Tonneau Cover Clamps
Choosing the best tonneau cover clamps ensures fitting and long-lasting protection for your truck bed. High-quality clamps not only ensure stability and protection but also make the installation process effortless. Here are some of the best clamps for your tonneau cover.
The iFJF Mounting Clamps for Truck Caps and Camper Shells, are designed to bring strength and longevity to your truck setup. Made from sturdy, corrosion-resistant aluminum, these clamps are not only durable but also offer a stylish modern touch with a sleek black or silver finish. These clamps are tailored for a wide range of trucks, fitting models like Chevy Silverado/Sierra 1500, 2500, 3500, Dodge Dakota, Ram 1500, 2500, 3500, F150, F250, Mitsubishi Raider, Titan, and Tundra.
The package includes a set of 4 clamps, providing ample coverage for your truck bed. The clamps' primary function is to securely mount truck caps on your vehicle without requiring any drilling, offering an easy, damage-free installation process. With their ease of installation and use, these clamps guarantee great value for your investment.
The AA-Racks Utility Track System Mounting Clamps are a set of two pair of high-quality truck cap clamps designed for strength and durability. They have a higher price but are made of tempered aluminum with a Mill Finish, which makes them strong and rust-proof, ensuring double the durability. This set is specifically compatible with Tundra models from '07 and newer with Cargo Rail and Toyota Tacoma models from '05 and newer with a Cargo Rail system.
The clamps are designed to seize easily and fit firmly onto many truck caps and camper shells. The installation process is straightforward, with no drilling required, which saves time and prevents any potential damage to your vehicle. The grooved chuck or striped design increases contact friction, concentrating the pressure to prevent dispersion, making the clamp installation more stable. With a maximum torque of 7.5 lbf.ft, these clamps ensure a tight fit for your truck topper. The package comes with an easy-to-follow installation guide.
The SINGARO Clamps for Truck Caps are a versatile and practical choice for truck owners. This set includes 4 clamps made from a durable high-quality aluminum alloy, promising high hardness and long-term use. The black finish contributes a sleek, modern touch to your truck. SINGARO's clamps are designed for a broad range of trucks, including models like the Chevy Silverado, Sierra 1500/2500/3500, Dodge Ram 1500/2550/3500, Ford 150/250, Titan, and Tundra, providing versatile compatibility for most pickup trucks and campers.
A standout feature is the no-drill installation, offering a convenient, damage-free method to secure the top cover. The clamps' design allows for adjustable opening sizes, which can be fixed by simply tightening the screws, facilitating a snug fit.
SINGARO's Clamps are budget-friendly (the price fluctuates but overall is good), yet a high-quality choice for your truck cap or camper shell needs. Should you have any concerns, the manufacturer promises excellent customer service, ready to assist and satisfy all customer inquiries.
The MONOKING Truck Topper Clamps offer precise fitting and versatile utility for your truck's needs. These clamps are compatible with a range of trucks, including F150, F250, Chevy Silverado/Sierra 1500, 2500, 3500, Dodge Dakota/Ram 1500, 2500, 3500, Nissan Titan, and Toyota Tundra. The package includes six silver clamps, designed not only for truck toppers but also for ladder racks and truck beds, increasing the product's utility.
Made from a stronger aluminum alloy, these clamps resist corrosion and rust, ensuring longevity. The sturdy and safety-centric design includes added sponge rubber, ensuring a tight grip and firm fit on various truck caps and camper shells.
They come at a reasonable price, are easy and quick to install, requiring no cutting or drilling, making them an excellent choice for DIY enthusiasts. Backed by a 12-month manufacturer warranty and lifetime tech support and customer service, these clamps from the MONOKING store are reliable solution for securing your truck bed and enhancing its functionality.
The Fivepine Universal Truck Topper Clamps, are a reliable, versatile, and high-quality choice for mounting various truck components, such as truck caps, pickup racks, truck bed covers, and camper shell brackets. Built with a sturdy aluminum alloy structure, these clamps assure maximum strength and durability. They feature an anti-loose design with slotted jaws for a firm and secure grip.
Furthermore, they are easy to install, removing the need for drilling; you simply need to tighten the provided bracket bolts. The clamps offer universal compatibility with a range of truck models, including Chevy Silverado, Sierra 1500, 2500, 3500, Dodge Dakota, RAM 1500, 2500, 3500, Ford F150, F250, Mitsubishi Raider, Nissan Titan, and Toyota Tundra. Each clamp extends up to 5 inches tall and has a 1-1/2 inch opening space, providing versatility in fitting different truck models. Fivepine's practical design and superior build quality, at a great price, make these clamps a valuable addition to any truck.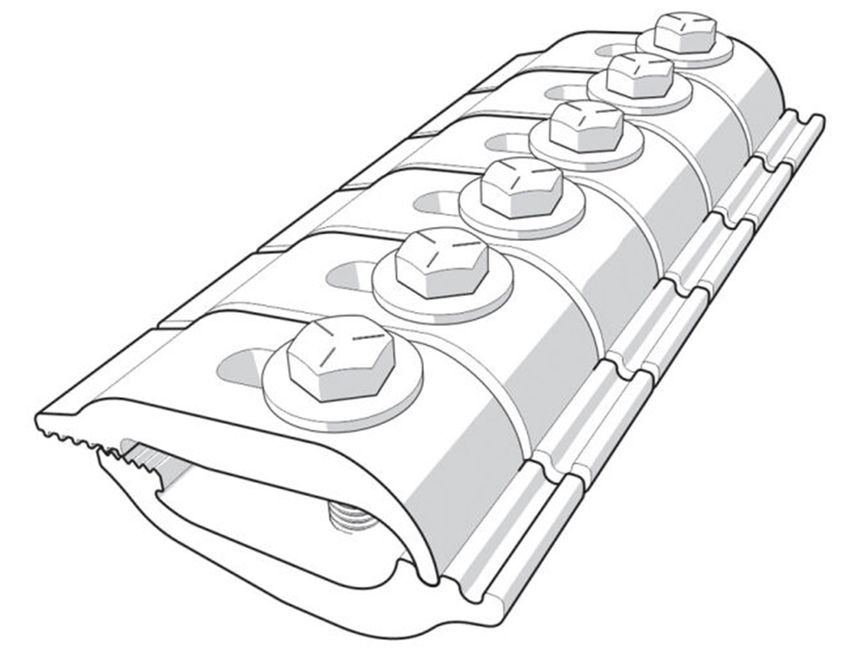 The TruXedo Tonneau Clamp Kit, manufactured by RealTruck, is a comprehensive solution for securely mounting your TruXedo Tonneau Covers. This kit is specifically designed as a replacement for the Lo Pro, Edge, Pro X15, Sentry, and Sentry CT kits. The package comes with 6 robust clamps, engineered for a precise fit and durable performance.
These clamps are easy to set up and are built to ensure that your tonneau cover stays firmly in place, even under harsh conditions. The product is known for its dependability and good price, ensuring a long-lasting solution for your tonneau cover installation needs.
Final Words
Today we have explored several high-quality and reputable clamp options, each offering unique features, fitting a range of truck models. The shop choice is ultimately up to you since there are several factors in play when looking for truck parts that suit your vehicle.
Keep in mind, when choosing tonneau cover clamps, consider your truck model, your specific needs, and the price. But no matter which you choose, these reliable products promise to provide safe, durable, and easy-to-install solutions that make the most out of your tonneau cover.
META DESCRIPTION: Looking to buy tonneau cover clamps? In this article, we've covered everything you need to know about them as well as some of the best clamps for tonneau covers.
I am Dave McCurdy I am the content developer on the ecodrivingusa.com website. I have 6 years of experience in marketing as an automotive major.