The 2023 Toyota Tundra is the epitome of modern, full-size pickup trucks, boasting an impressive set of features designed to impress and excite every truck enthusiast. In addition to its striking exterior design, cutting-edge infotainment system, and robust safety technology, this vehicle showcases an array of energetic powertrains that offer impressive horsepower and torque.
But, beyond its built-in capabilities, the 2023 Toyota Tundra opens up a whole new world of possibilities with a vast selection of accessories. From enhanced convenience, comfort, and storage solutions to performance upgrades and aesthetic improvements, the options are seemingly endless.
In this article, we delve into the most sought-after 2023 Tundra accessories, offering you a comprehensive guide to the customization possibilities for your new pickup. Stay tuned and discover how you can maximize the functionality, comfort, and performance of your Tundra with the right accessories.
Benefits Of Accessories
Car accessories offer multiple benefits, transforming your driving experience while improving your vehicle's utility and aesthetics. Accessories such as seat covers and all-weather floor mats help maintain cleanliness, prolonging the life of your vehicle's interior. Stylish accessories like custom grilles or chrome trims can elevate the visual appeal of your car, making it truly stand out.
Safety and emergency accessories, like a roadside emergency kit or a high-end navigation system, can be invaluable in unexpected situations, adding a layer of security. Entertainment upgrades, such as advanced audio systems or rear-seat entertainment units, can turn your vehicle into a moving entertainment hub, making long trips more enjoyable. Practical accessories like smartphone mounts or dashboard organizers improve the vehicle's functionality.
Ultimately, accessories allow you to customize your car to fit your unique needs and preferences, enhancing comfort and the overall driving experience.
Top 10 Toyota 2023 Tundra Accessories
These handpicked accessories provide an array of benefits, from boosting functionality and aesthetics to improving safety and entertainment. Read on as we delve into these accessories, each offering unique customization choices to ensure your Tundra is perfectly tailored to your driving needs and preferences.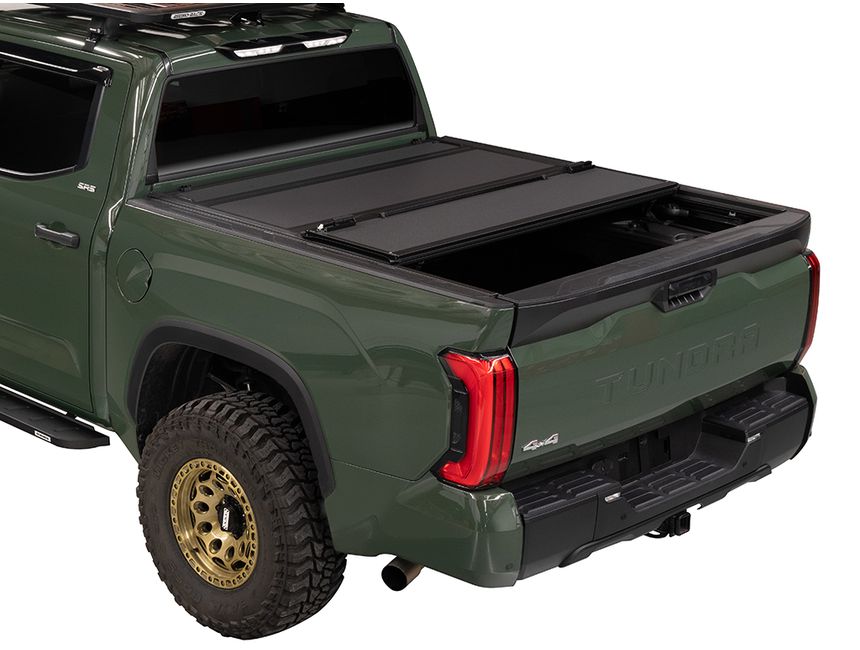 The BAKFlip MX4 Tonneau Cover is one of the best tonneau covers and a premium accessory for your 2023 Toyota Tundra, offering superior aesthetics, security, and weather resistance. This top-of-the-line, hard-folding cover is constructed from robust alloy materials, including heavy-duty aluminum panels and side rails, providing a level of durability unmatched by soft-folding alternatives.
It boasts a sleek, matte-black finish, blending seamlessly with your truck's profile. Its design allows for complete bed access when needed, with integrated prop rods for secure support. The MX4 also boasts an easy, no-drill installation and weather-resistant seals, offering a secure hold and protection for your cargo. With a 400-lb weight capacity and a 5-year warranty, the BAKFlip MX4 is the ultimate blend of form and function for your truck's bed cover needs.
The UYYE Car Trunk Hanging Organizer is a practical, space-efficient accessory for your 2023 Tundra. Measuring 39.3 x 17.7 inches, this organizer provides ample storage with four pockets and two mesh pouches. It's designed to accommodate daily car necessities, emergency equipment, children's toys, pet supplies, or even groceries, keeping your trunk tidy.
Unlike box storage bags, this hanging design doesn't consume your trunk floor space, leaving room for larger items. Easy to install, it securely fastens to the back of the seat with adjustable buckle clip straps and robust Velcro, ensuring no sagging. The organizer is made from durable 600D Oxford fabric, offering excellent scratch and tear resistance. Available in two colors, this organizer is a perfect gift for friends and family who love a well-organized vehicle.
Enhance your Tundra's infotainment experience with this highly-rated, premium-quality screen protector. The Artemis Shields Anti-Glare Matte Premium Screen Protector is a perfect addition to enhance the infotainment experience in your 2023 Tundra. Specifically designed for the 14-inch navigation display in the 2023 Tundra, it offers full glass coverage and is manufactured in the USA. This protector incorporates nano-coating technology that effectively reduces fingerprints and smudges, keeping your screen clear and clean.
It also diffuses light to minimize glare, reducing visual fatigue during long drives. Despite its protective qualities, it maintains high transparency to preserve the original screen brightness and features and doesn't compromise touch sensitivity, ensuring smooth operation. Each package comes with two water-repellent screen protectors.
The ADARAC ADAGRID Overland Accessories are an exceptional addition for the adventurous owners of the 2023 Toyota Tundra. Tailored for those who push the limits, these accessories add an extra layer of practicality to the already capable Tundra. They are constructed from durable aluminium and are specifically designed to be compatible with ADARAC Aluminum Series, Pro Series, and M-Series, offering a seamless, no-drill installation that aligns perfectly with the Tundra's robust design ethos.
With a weight capacity of 250 lbs, you can securely store essential overlanding gear like gas tanks, water cans, and rooftop tents. The corrosion-resistant bars add resilience without adding unnecessary weight, letting you adventure with confidence. With ADARAC ADAGRID Overland Accessories on your 2023 Tundra, the wilderness is your playground.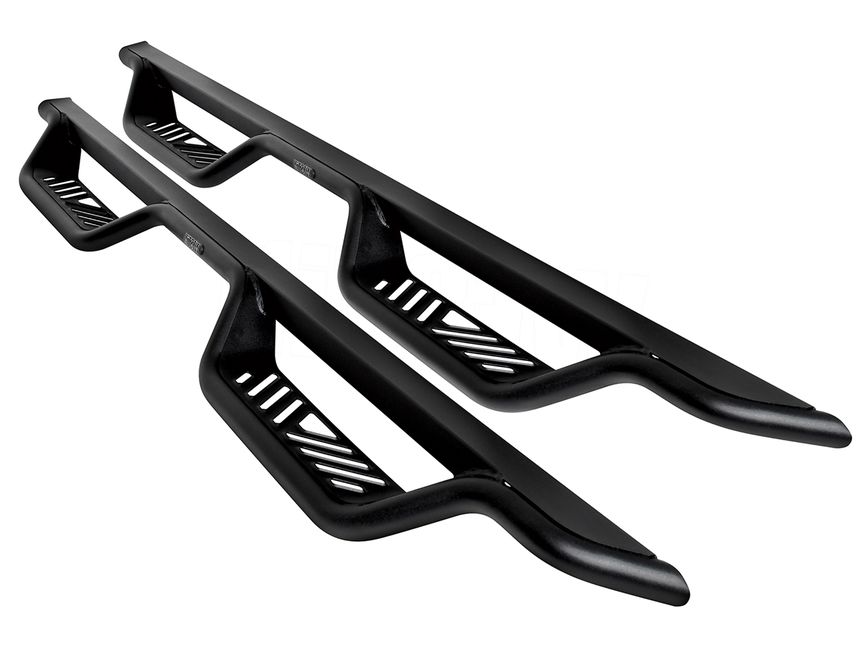 The Outlaw Drop Nerf Step Bars, part of Westin's Outlaw line, are designed to balance aesthetics, durability, and functionality for your vehicle. Constructed from 1.5″ mandrel-bent steel tubing and coated with both e-coat and black textured powder-coat, these bars promise lasting corrosion protection.
They feature 4-inch wide drop steps, complete with die-stamped treading for enhanced traction, ensuring safe entry and exit from your vehicle in any weather condition. With an easy, no-drill installation process and a vehicle-specific mounting kit, setup is straightforward and quick.
Not just for off-roading, these step bars add rugged style to everyday driving. They come with a 3-year warranty for your peace of mind, and they perfectly complement Westin's Outlaw front and rear bumpers for a complete, tough look.
The BLCKTEC 430 Bluetooth OBD2 Scanner Diagnostic Tool aims to simplify car repairs, transforming your smartphone into a comprehensive diagnostic tool. Using advanced features usually found on high-end scanners, this device enables you to understand your vehicle's issues, read and clear engine, ABS, SRS, TPMS codes, and more.
The BLCKTEC scanner leverages the latest OBD2 technology, providing reliable and accurate diagnostics. Compatibility is extensive, covering most vehicles manufactured after 1996, which includes cars, trucks, and SUVs, making it a versatile tool for any DIYer.
The user-friendly app, compatible with both iOS and Android, presents clear and concise information, simplifying your vehicle's diagnostics and the repair process. With the BLCKTEC 430, you'll have access to professional-grade diagnostics right at your fingertips.
Enhance your Tundra's utility with the RefitEco Cargo Net, custom designed in the United States to perfectly fit the bed length of Tundra 2023 models. This Truck Bed Cargo Net is an excellent solution for securing loose or bulky objects, helping to prevent spillage incidents, making it a perfect companion for transportation, moving, or weekend travels.
Constructed from elastic nylon, it offers impressive stretchability, and the sturdy ABS hooks guarantee durability and longevity. The installation process is simple and quick, requiring no drilling or tools, just attach the metal hooks to the Tundra's fixed points.
This cargo net not only optimizes your truck bed's space, making your Tundra tidier but also ensures objects are locked firmly in place, preventing them from rolling or rattling during your journey.
The TTCR-II Center Console Storage Box is a perfect accessory for the 2022-2023 Toyota Tundra models, offering an additional storage solution to keep your vehicle organized and neat. Crafted from high-quality, corrosion-resistant ABS material, it fits seamlessly with the original console of SR, SR5, Limited, and TRD models.
This storage box features a secondary tray for neat storage of items such as phones, wallets, sunglasses, and change. It comes with an anti-slip pad, made of environmentally-friendly silicone, that prevents dust from accumulating.
Beyond practicality, this insert enhances your vehicle's interior styling, making it an excellent investment for every Tundra owner. The box is easy to clean, ensuring your console remains pristine.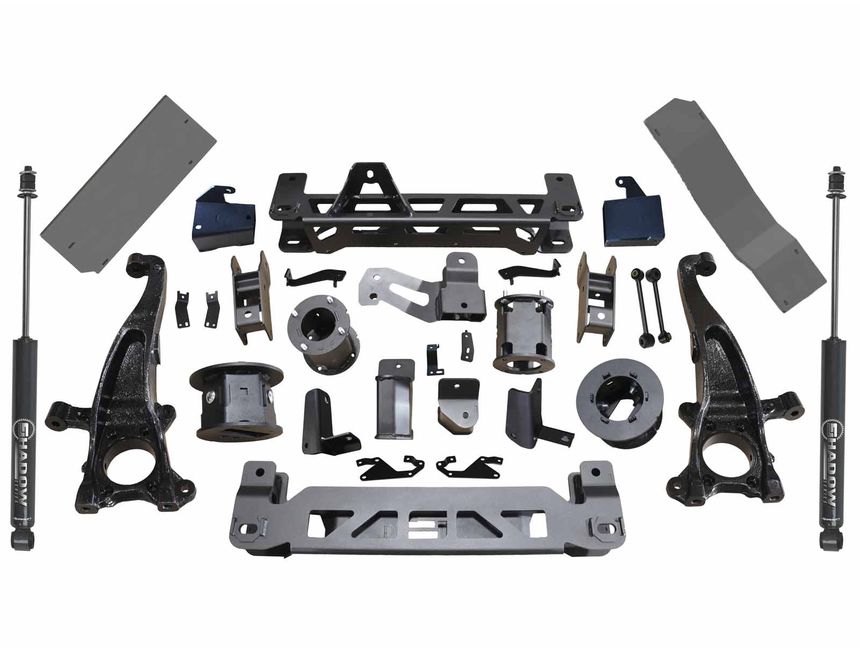 The Superlift 6″ lift kit is a complete suspension upgrade for your vehicle, designed and manufactured in Monroe, LA. It provides precise fitment specific to your vehicle and includes all necessary installation hardware, from coil springs to shocks. You have the option to choose between Superlift shocks or upgrade to Bilstein 5100 series shocks.
This kit facilitates larger wheels and tires, giving your vehicle an aggressive stance. Each kit comes with detailed instructions to ensure an accurate fit. Furthermore, your investment is protected by a limited lifetime warranty. Choose the Superlift lift kit and elevate your off-road experience on the road less travelled.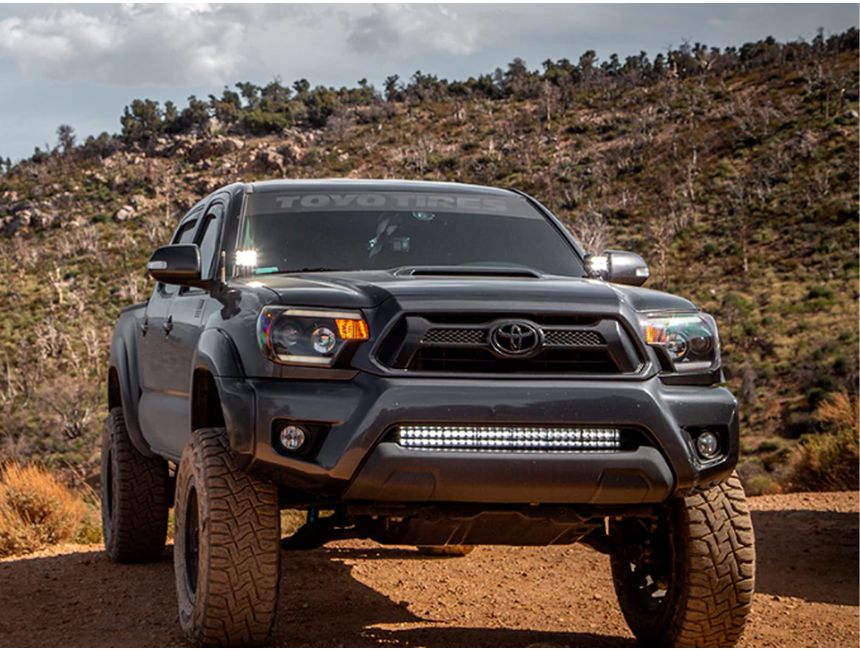 Cali Raised LED bumper mounts offer a sleek solution to add extra lighting to your vehicle while preserving a low-profile or customized look. They are specifically designed for each model, ensuring a perfect fit, and proudly engineered and manufactured in the USA. The brackets are designed to fit into OE locations, requiring no modifications or cutting.
If you opt for the kits, the Cali Raised LED light bars feature extruded aluminium housing, durable polycarbonate lens, and integrated thermal management, ensuring long-lasting performance. Choose from spot or combo light patterns and OEM lighted switches for a factory look or stock wiring kits. With a 2-year warranty and an easy installation process, Cali Raised bumper mounts make a great addition to any vehicle.
Making the Most of Your Accessories
After investing in your choice of 2023 Toyota Tundra accessories, it's vital to ensure they're installed correctly, maintained properly, used safely, fully leveraged, and even insured for optimal benefits.
Proper Installation: The first crucial step following your purchase is the correct installation of your accessories. Whether you opt for DIY installation or decide to enlist the expertise of professionals, it's critical to adhere to the recommended installation procedures. Incorrect installation can not only compromise the functionality of the accessory but also potentially cause harm to your vehicle. Therefore, taking the time to install your accessories accurately and securely is vital to their performance and longevity.
Maintenance: To ensure your accessories continue to serve you well over time, proper maintenance is key. Some accessories require specific care and attention to remain in peak condition. Stay attuned to these maintenance needs to get the most out of each accessory.
Safe Use: The longevity and effectiveness of your accessories also hinge on safe and appropriate usage. Be sure to respect the guidelines and limitations of each accessory. If, for example, you have a roof rack, be mindful of its maximum weight limit to avoid causing damage to the rack or your Tundra.
Leverage Features: Each accessory comes with specific features and functionalities designed to enhance your Tundra experience. Spend time learning about these features and understanding how they can be used to their full potential. This knowledge will not only improve your driving experience but also ensure you're getting the maximum value from your investment.
Insure Your Accessories: Finally, consider adding your accessories to your vehicle's insurance policy, particularly if they hold significant value. This step can provide you with additional peace of mind, offering protection in the event of theft or damage to your accessories.
By taking these steps, you can maximize the benefits of your Tundra accessories, ensuring they enhance your vehicle's performance, aesthetics, and utility over the long haul.
Final Words
Driving a vehicle is more than just a mode of transportation; it's an experience that can be significantly enhanced with the right accessories. Whether you're an off-road adventurer, a city cruiser, or a long-distance traveller, tailor-made accessories can improve functionality, increase convenience, and augment overall driving enjoyment.
From enhanced storage solutions to advanced diagnostic tools, and improved suspension systems to personalized lighting options, every accessory contributes uniquely to your 2023 Toyota Tundra. Designed with precision and backed by solid warranties, these accessories ensure durability and reliability.
They not only improve the practical aspects of driving but also allow you to personalize your 2023 Tundra to match your unique style and needs. So, make the most of your Toyota Tundra and equip it with high-quality accessories to create a truly personalized driving experience.
I am Dave McCurdy I am the content developer on the ecodrivingusa.com website. I have 6 years of experience in marketing as an automotive major.