The Jeep Gladiator has won the hearts of many car enthusiasts worldwide with its unique combination of style and utility. As an owner of this iconic pickup, you might be considering various enhancements, including a Jeep Gladiator bed cap. A bed cap offers not only increased protection for your truck bed from weather conditions but also added security for your cargo. However, navigating the vast array of options on the market can be daunting due to the variety of quality and features available.
This article aims to simplify your search by recommending the top bed cap covers for your Jeep Gladiator, each chosen for its superior quality, functionality, and value. Remember, compatibility is crucial, so always double-check the dimensions for a perfect fit. Let's dive in and find the best bed cap to boost your Gladiator's aesthetics while safeguarding your truck bed and cargo.
What Is A Bed Cap?
A truck bed cap, often known as a topper, bed cap, or camper shell, is a noteworthy addition for any pickup truck owner. It serves as an enclosed canopy that covers and shields the bed of your truck. This important upgrade is designed to offer a robust solution for those seeking not only enhanced space but also an effective way to organize and secure their cargo, particularly for long-haul journeys.
Distinct from tonneau covers, which have a lower profile, truck caps are specially designed to sit at varying heights – cab-high, mid-rise, or as high-rise toppers, depending on your preference. They provide an additional layer of safety for your tools and gear, and offer room for customization, such as installing shelving units or side windows.
One of the most compelling aspects of a truck cap is its capacity to transform your truck bed into a semi-enclosed space. This transformation can essentially convert your pickup into a makeshift RV, enabling camping enthusiasts to create a cozy space right in their vehicle. Therefore, whether you're prepping for an annual hunting trip, a weekend getaway, or simply need a better organization system for your tools, a truck bed cap might be just the solution you need.
Things To Consider
When deciding on the ideal bed cap for your Jeep Gladiator, there are several factors that you should take into account. Each of these elements contributes to the overall usefulness, longevity, and aesthetics of the bed cap.
Compatibility: The foremost consideration when shopping for a bed cap is compatibility with your vehicle. Ensure the cap is designed specifically for the make and model of your Jeep Gladiator. This will ensure not just a seamless fit but also ease of installation and optimal performance.
Material: Bed caps come in a variety of materials, including aluminum, steel, and fiberglass. Each material comes with its unique strengths. For instance, aluminum is lighter and resistant to rust, while steel offers excellent durability and strength. Fiberglass, on the other hand, can provide a sleek look and can be painted to match your vehicle. Your choice should depend on your requirements in terms of weight, durability, and appearance.
Design: Bed caps come in a multitude of designs, from one-piece models to modular designs. Some have side doors for easy access, while others are completely sealed. Think about how you intend to utilize your truck bed. If you need to access your cargo from the sides frequently, opt for a design with side doors.
Ease of Installation: A bed cap that requires professional installation can add to your costs and might not be easy to remove when you don't need it. Conversely, a cap that can be installed and removed easily gives you flexibility in how you use your truck bed.
Weatherproofing: One of the main purposes of a bed cap is to protect your load from the elements. Ensure the cap you choose is weatherproof and can withstand the environmental conditions where you usually drive.
Security: If you often carry valuable items in your truck bed, security will be a key concern. Some bed caps come with locking mechanisms that help to secure your cargo.
Aesthetics: While the functionality of the bed cap is important, you probably also want it to enhance the look of your vehicle. Look for a design that complements the style of your Jeep Gladiator.
Top 5 Best Jeep Gladiator Bed Caps For Pickup Tracks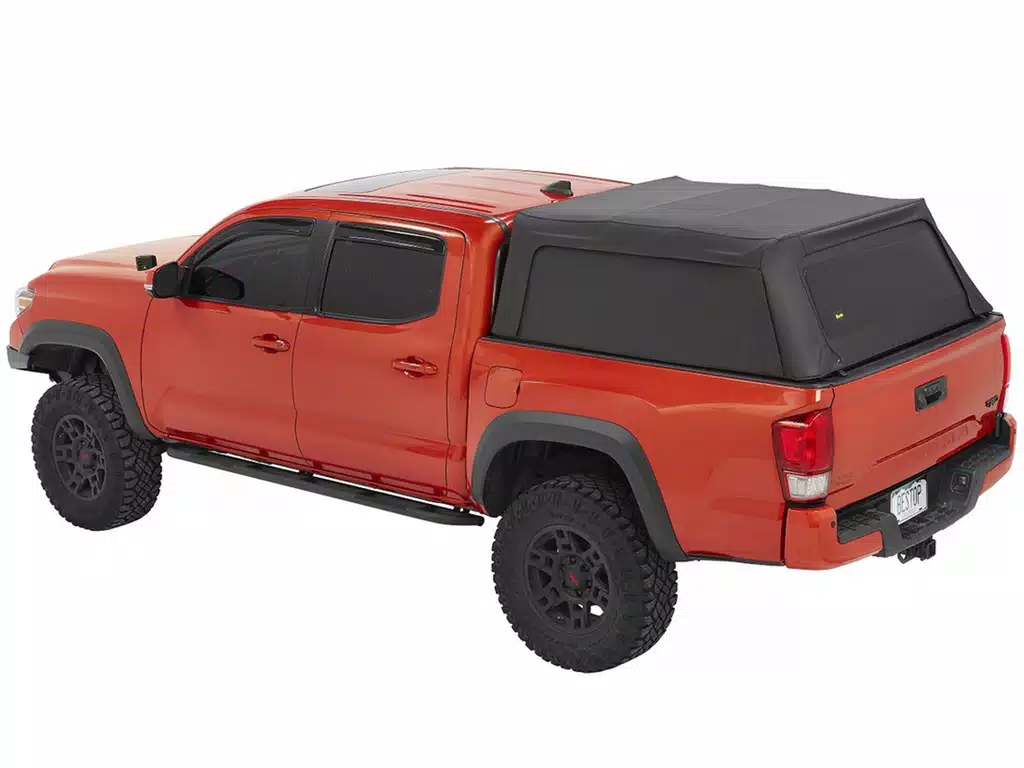 Offering a seamless blend of functionality, longevity, and style, the Bestop Supertop for Truck 2 Bed Topper is an ideal pick for truck owners seeking superior coverage and flexible storage. Constructed with robust Black Diamond or Black Twill fabric, this topper stands up to harsh conditions and resists stains and mildew, promising lasting use.
The bed topper stands out with its removable solid side and tinted rear window panels, allowing you to conveniently customize of your truck bed's exposure. When not in use, these panels can be rolled into a storage pocket. The Bestop Supertop prioritizes ease of installation, attaching securely with four clamps and requiring no drilling, making it a one-person operation that won't interfere with normal tailgate functionality.
Featuring a fully integrated bow system, this topper demonstrates Bestop's industry-leading design by offering unrivaled top adjustability, promising a snug and secure fit. The easy-open tailgate design allows easy truck bed access without removing or unzipping the rear window.
Bestop enhances vehicle safety and integration with the included optional third brake light and vehicle-specific wiring harness. Furthermore, the product comes with a limited 5-year warranty, highlighting the company's trust in its product. With the Bestop Supertop, you're investing in more than just a bed topper – it's a stylish, durable, and versatile solution for your truck bed requirements.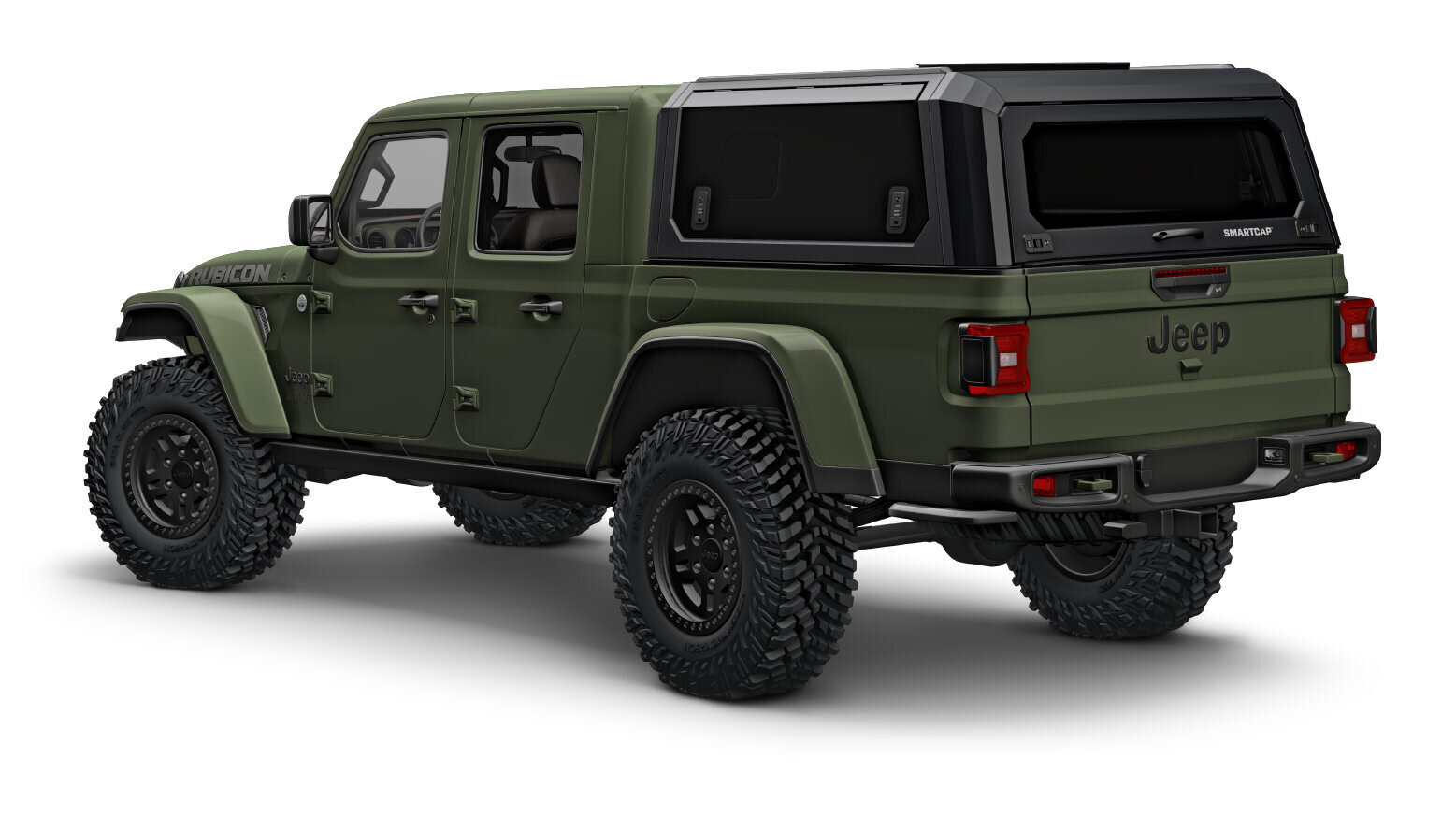 In the realm of truck caps, the SmartCap EVO stands out, delivering an unparalleled blend of resilience, adaptability, and style. Forged from superior automotive-grade stainless steel, this truck cap exemplifies durability. With a dynamic load capacity of 330 lbs and a static load capacity of 770 lbs, it undoubtedly lives up to its heavy-duty description.
The EVO marks a significant evolution in the truck cap market with its groundbreaking modular design. This innovative approach not only eases shipping and assembly but also facilitates customization with its unique SmartComponents. Whether your lifestyle demands a Full-Bin for storing tools or a Camp Kitchen for wilderness culinary adventures, the EVO cap adjusts to meet your needs.
The SmartCap EVO offers total weatherproof protection, ensuring your load remains unscathed no matter the weather. Plus, its unique Positive Pressure Air Vent counters dust invasion, preserving a clean interior.
Not to be overlooked is the provision of integrated Roof Rails that extend countless possibilities for gear mounting. Additionally, compatibility with most existing rack systems provides universal mounting flexibility. The conspicuous high-mounted third brake light further enhances visibility and safety. For Jeep Gladiator owners, the SmartCap EVO isn't just an accessory—it's an indispensable upgrade that complements their lifestyle while meeting functional needs.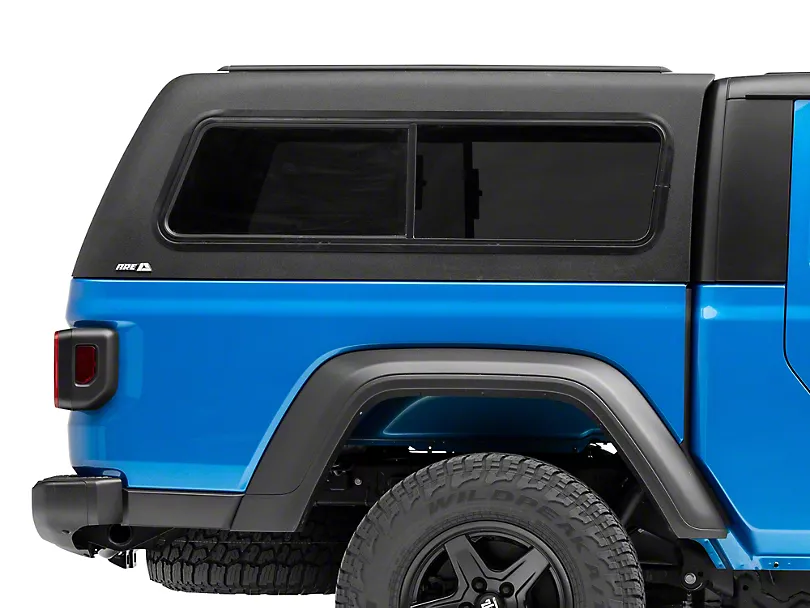 Are you seeking a practical, yet stylish addition to your Jeep Gladiator JT? Look no further than the A.R.E. CX Classic Truck Bed Cap. This stellar accessory brings together strength, style, and functionality, making it the perfect addition whether your Gladiator serves as a workhorse or an adventure companion.
Crafted with reinforced fiberglass and coated with a matte-black LINE-X specialty automotive finish, this bed cap combines superior durability with an attractive appearance. With its polyester resin fiberglass laminate, it presents additional resilience, resisting scratches and wear impressively.
The CX Classic Truck Bed Cap is a standout choice owing to its robust security features and effective weatherproofing. Its secure storage space shields your belongings from the elements, ensuring their protection. Standard features include a front picture window, a half-slider screened side window, and a single T-lock heavy-duty rear door, enhancing security.
Enhancing your Gladiator's aesthetics is a breeze with this cap's sleek, matte-black finish and smooth lines. Crafted in an ISO-certified facility to the highest standards, it guarantees top quality. Its manufacturer's warranty further assures long-lasting service, promising a structural defect-free cap body for as long as you own your vehicle.
Designed specifically for 2020-2023 Jeep Gladiator JT models, the A.R.E. CX Classic Truck Bed Cap is carefully built to order, reflecting attention to detail in its crafting. Upgrade your Gladiator's utility and style with this premium truck bed cap.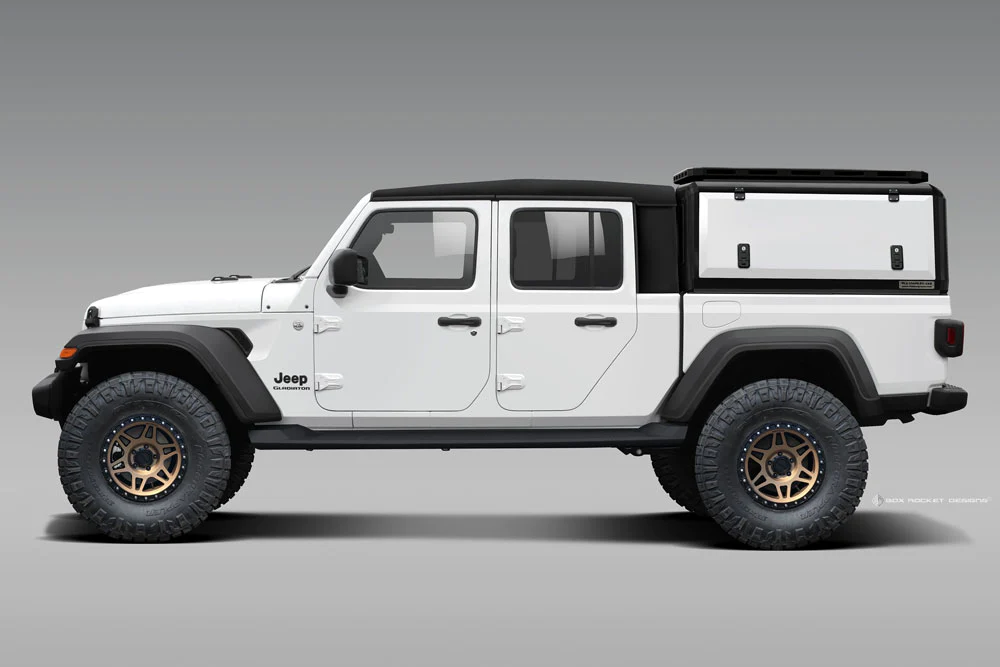 The RLD Design Jeep Gladiator Truck Cap is a game-changer, blending robust functionality and superior aesthetics. Tailored to complement the Jeep Gladiator's unique style, this stainless steel cap offers unparalleled durability. Shaped using cutting-edge 5-axis CNC press bending, modeled to 3D CAD designs, TIG welded, and finished with a textured heavy-duty powder protective coating, this cap transcends the conventional fiberglass variants.
The standout feature of the RLD Gladiator Canopy is the incorporation of pre-fabricated access points in the reinforced steel roof. This design enables easy mounting of rack systems and modular accessories such as side cabinets and drop-down tables, fostering versatility. This canopy's substantial dynamic load capacity surpasses 325 lbs, embodying strength and adaptability.
With the RLD Gladiator Canopy, customization is limitless. From altering door colors to integrating additional accessories, you can personalize your truck cap as per your preferences. Although shipped as freight to your nearest terminal or commercial receiving location, residential delivery may incur extra charges.
Showcased at the Overland Expo, RLD Truck Caps have gained immense popularity. The base model is equipped with an all-stainless steel construction, a solid triple rail-formed roof, predesignated mounting points, gull-wing style doors with dual gas struts, and superior weatherproofing. The RLD Gladiator Canopy is more than a truck cap – it's the ultimate off-road companion for your Jeep Gladiator.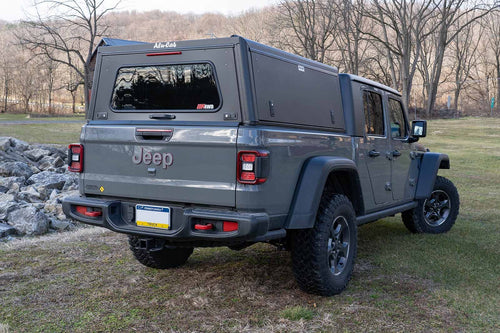 As you embark on your road adventures and trips, safety and shelter should be at the forefront of your concerns. The Alu-Cab Explorer Canopy for the 2020-2023 Jeep Gladiator beautifully combines these two elements in a versatile and user-friendly package.
In the 1990s, when Alu-Cab started to forge the path of creating the first-ever aluminum adventure canopies, they banked on their extensive travel experience to identify three crucial success factors for overland equipment: weight, strength, and versatility. The challenge was to harmonize these factors and offer a solution that would stand the test of time and challenging environments.
The material of choice for Alu-Cab is aluminum. This choice is not accidental but is based on the clear benefits of this metal. Until the day we see passenger planes constructed from fiberglass or stainless steel, aluminum continues to be the go-to material, providing an unmatched strength-to-weight ratio, making it economically and structurally viable.
However, the merits of aluminum extend beyond its impressive strength and weight benefits. It's a great choice for its superior corrosion resistance and UV stability. Even when scratched, aluminum will never rust, making it perfect for off-road environments. It is also repairable and flexible, essential qualities when out on the trails. To top it off, aluminum is 100% recyclable, making the Alu-Cab Explorer Canopy a conscious choice for the environment.
The Alu-Cab Explorer Canopy is extremely easy to install, requiring no drilling or assembly, provided you have a factory track system. Its aluminum alloy construction ensures a superior strength-to-weight ratio, making it up to 40% lighter than its steel counterparts.
The canopy comes equipped with built-in roof rails, primed for the fitment of load bars, a roof rack system, an awning, solar panels, or a rooftop tent. It's outfitted with a 3-door opening and full-length side doors for maximum canopy access. The center flex, waterproof hinges are meticulously designed to prevent rainwater from dripping into the canopy when the doors are open.
The canopy's internal base frame creates additional lashing points for overland, camping, or workhorse applications, ensuring optimal use of space. With its strong aluminum build and tamper-proof lockable system, you can have peace of mind regarding the security of your equipment.
Bottom Line
In conclusion, adding a bed cap to your Jeep Gladiator is an invaluable investment that provides extra protection and security while enhancing your vehicle's overall aesthetics. With a multitude of options available, it's critical to make a choice that matches your unique needs and lifestyle. Whether you prioritize lightweight materials, durability, or added functionality such as a convertible feature or weatherproof sealing, there's a solution for everyone.
Note, while making your decision, consider factors such as ease of installation, material quality, and brand reputation. Compatibility with your specific model is also paramount. Each product we've presented brings unique attributes to the table, ultimately offering increased utility and peace of mind on your road journeys. It's our hope that this guide provides clarity in your decision-making process as you seek to find the perfect bed cap for your Jeep truck.
I am Dave McCurdy I am the content developer on the ecodrivingusa.com website. I have 6 years of experience in marketing as an automotive major.